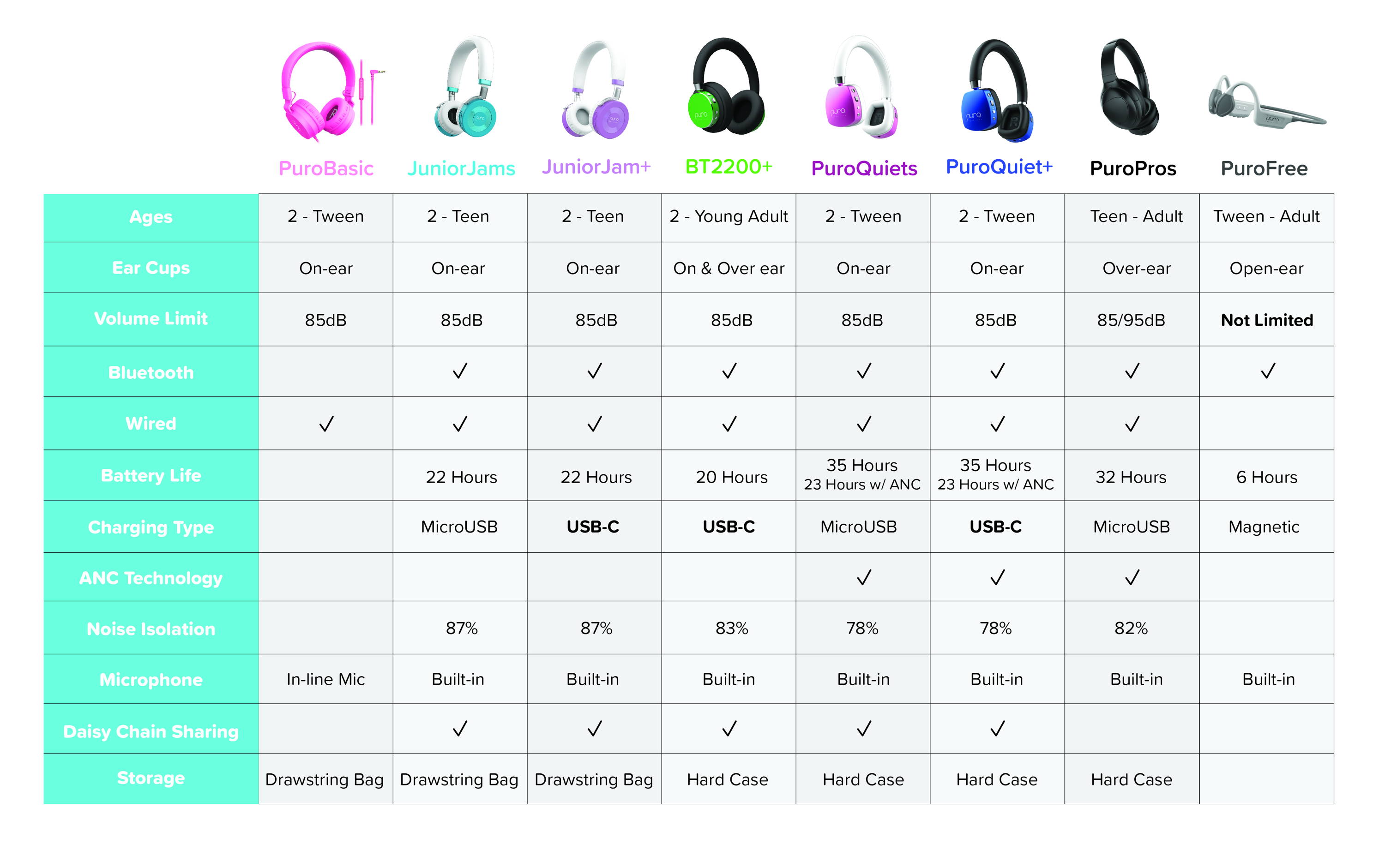 BT2200s What do the buttons do?
JuniorJams What do the buttons do?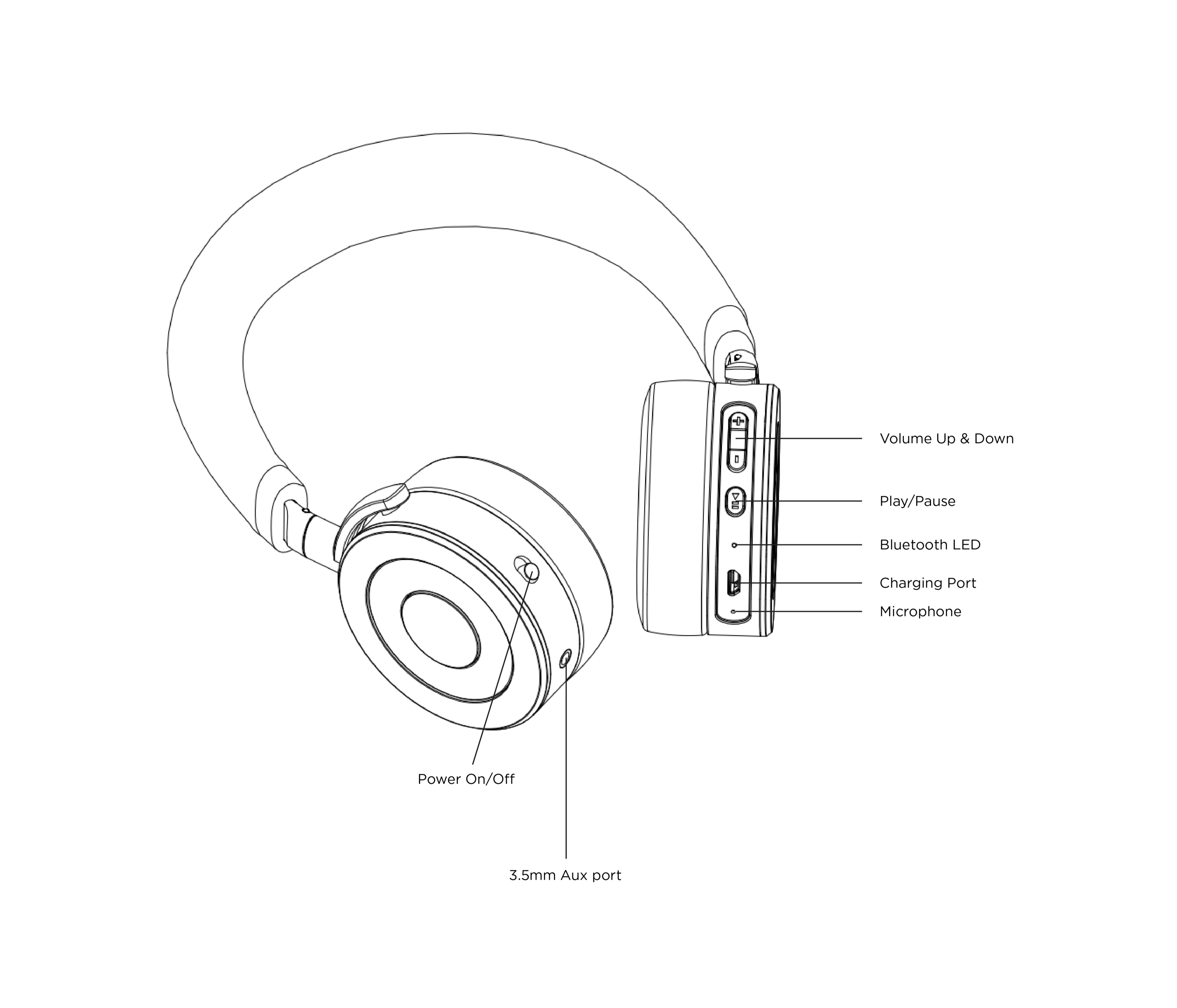 PuroQuiets What do the buttons do?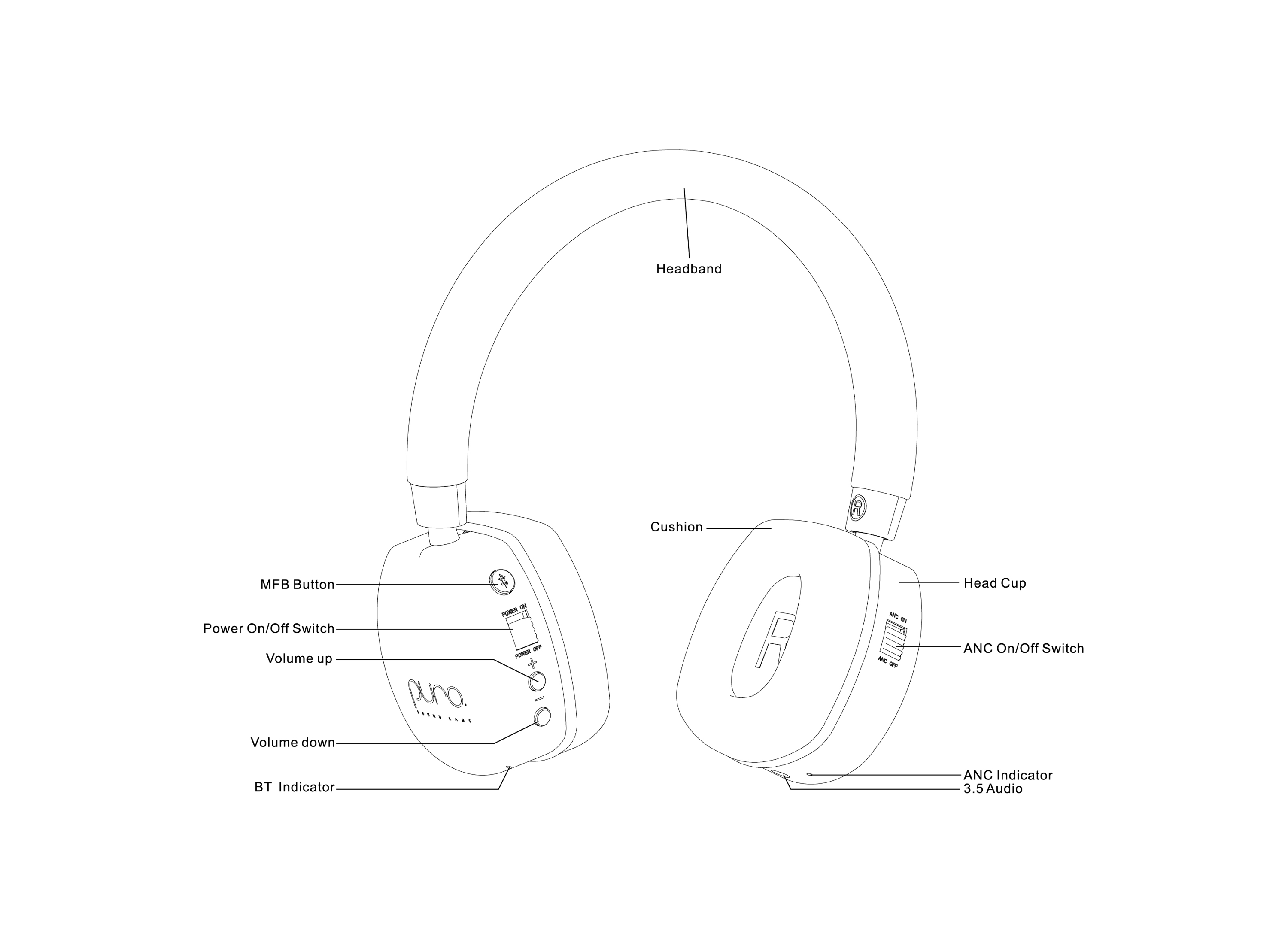 Daisy Chain Sharing How To
Perfect for connecting two headsets to share one device
1. Connect headphone A to the device either Bluetooth or with the Puro limiter audio cable.
2. Once headphone A is successfully connected, plug in the Daisy Chain cable (microUSB - MicroUSB cable) into headphone A followed by headphone B.
3. Power on headphone B if using Bluetooth connection and begin playing the device being shared.
Zoom Call Help For Sharing Video & Audio
Are you a teacher using our headphones and need to share our screen & play a video or show a link and have the others hear your audio? Follow these steps.
1. Select to share your entire desktop. Make sure you do not have any personal or student information visible.
2. Select relevant programs (i.e. Teams, Excel, etc.)
3. Select Google Chrome to share an individual browser window.
4. Select lower boxes that "share computer sound" and Optimize screen share for video clip. (you can use your headphones and mute yourself without impacting shared sound)
Are these headphones compatible with iPhones, iPads, Android and other devices?
Yes, is the short answer. You can use the headphones with any modern device that has Bluetooth, including all Apple iPhones and iPads as well as Android phones from companies such as Samsung, LG and HTC. This includes Blackberry and Windows phones too. Also compatible with Kindle Viewing devices & Kindle Readers, Chromebooks & Amazon Fire Tablets.
You can also use a wired connection, using the Puro Limiter 3.5 mm audio cable to connect your headphones to any of these devices or others if Bluetooth is not available.
Will the headphones work with my Mac?
Or PC. If your Mac or PC provides support for Bluetooth, they will work with the BT Series wireless headphones. The included 3.5 mm audio cable (Puro Limiter cable) can also be used if Bluetooth is not available. Works with most devices.
Can the headphones be used for watching airplane movies?
If the airline provides a 3.5 mm output jack in the seat, your Puro Limiter 3.5 mm audio cable will plug right in and give you access to the soundtrack to that movie. And, our extra attention to blocking out background noise will make your flight just that much more peaceful.
Will the kids headphones fit my head? What size heads will these headphones fit?
Our kids headphones measured from the middle of one ear cup, around the headband, to the middle of the other ear cup are as follows:
Collapsed: 14"
Fully Extended: 16"
What happens if the battery dies?
If you do not have access to a power source to recharge the battery, you can connect the 3.5 mm audio cable that came bundled with the headphones. This can be connected to the 3.5 mm audio jacks on your phone or media device, and the other to the 3.5 mm port on the bottom of the left cup of the headphones.
Will the headphones work while the battery is being charged?
No, the BT2200s, PuroQuiets, JuniorJams & PuroPro will not play anything while the charging, for optimal safety.
What do solid or flashing Red or Blue LED lights mean?
– Red solid: battery is charging
– Blue solid: battery is fully charged
– Blue slow flashing: successfully paired and ready for use
– Blue fast flashing: in pairing mode and discoverable
How can I pair my Bluetooth source?
On your source (phone or media device), find the Bluetooth controls in the settings. Make sure that Bluetooth is enabled and "discoverable." Turn the headphones on (by moving the slider to the 'on' position) and enter "discoverable" mode. For the first paring, the headphone LED will fast flash BLUE, indicating that it is ready to pair.
Bring the source device within 1 meter of the headphone. Follow the source device instructions to look for discoverable devices. Select "Puro BT-2200", "PuroQuiet" or "JuniorJam" from the list. When successful pairing is completed, you will hear a long high-tone beep and the LED will change from a Fast-Flashing Blue to a Slow-Flashing Blue. You are now ready to use your headphones.
How do I switch to a different Bluetooth source?
For subsequent product pairing, press and hold the Bluetooth button for 3 seconds to re-enter "discoverable" mode, indicated by the Fast-Flashing Blue LED.
When trying to pair to a different device make sure the headphones have been "forgotten" on all devices. If a device is within Bluetooth range the headphones will try and pair to it.
How can I unpair sources from the headphones?
To unpair (or, break the current pairing) and force the product back to pairing mode, press and hold the Bluetooth button for 3 seconds to re-enter "discoverable" mode, indicated by the Fast-Flashing Blue LED.
Make sure the headphones have been "forgotten" from all devices within Bluetooth range or the will try and pair to that device.
What is the wireless range for listening?
Bluetooth audio has a range of up to 30 feet from the paired device.
How do I adjust the volume?
On the left earcup, there are two buttons for controlling the volume ("Vol +" and "Vol -"). In addition, the volume of the source device will also control the loudness in the headphones, on some devices this is the only method that will work.
Will these headphones work with our car's DVD video system?
A common question. The video systems that come with some SUVs, minivans and cars do not transmit sound using Bluetooth technology. Instead they most frequently use IR technology. If your car provides 3.5 mm audio jacks for headphones, the included Puro Limiter cable can connect in that manner. Our Bluetooth headphones are best enjoyed when connected wirelessly to mobile phones and tablets using their Bluetooth connections.
How long should you listen to headphones?
According to the Center for Disease Control (CDC), it is dangerous to listen to sound that is at a level of 85 dBA for more than eight hours. At the volume increases beyond that level, the amount of time that someone can listen to it without incurring hearing loss or ear damage decreases. According to the CDC, the recommended maximum listening time at 90 dBA is only one hour, and only 30 minutes if the measured volume level is at 100 dBA.
What is the highest volume that you can listen to these headphones?
All of our Headphones have a volume limit of 85 decibels. This is the recommended listening level by the World Health Organization for up to 8 hours of listening.
I understand that Bluetooth uses lossy compression. Do you have the sample/bit rates the compression works at in your design?
When connected via the wireless connection, we are using Bluetooth's SBC (Subband Coding), which, in the A2DP protocol used for our stereo transmission is capable of 320kbps. Now things get a bit tricky…the source device determines the level of compression. Fortunately after early devices came under pressure for poor Bluetooth quality, manufacturers implemented better (higher bit rate) compression in the SBC. So if you're using a contemporary device from Apple or Android, you're very likely using a SBC with a high bit rate. Of course, the source material again needs to be scrutinized for bit rate, particularly streaming services, which can vary greatly in rate of compression.
Audio Compression, when using the wired connection, is there analog/digital and digital/analog conversion? If so, is there compression applied?
With the wired connection everything is done in the analog domain. There is no compression applied at all (just linear attenuation to achieve the 85 dB). The only compression involved is from your source material on your smartphone or tablet.
Can Bluetooth Headphones be used with a cord?
Yes our headphones come with our Puro Limiter 3.5 mm Auxiliary Audio Cable. They can be used in Bluetooth mode or wired with the power off.
Make sure the Audio cable is plugged in correctly to your headphones, there is a bump on the wire with an arrow directing which way they go.
Puro Sound Labs is Certified Sensory Inclusive by KultureCity
Puro Sound Labs is the first company to be Certified Sensory Inclusive by KultureCity! We donate a pair of our PuroCalm Earmuffs to KultureCity and their Sensory Bags for every one bought! That way everyone can enjoy all environments and experiences!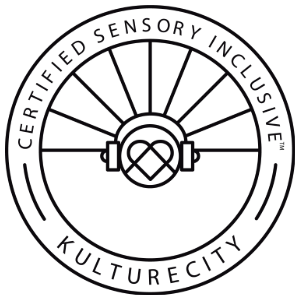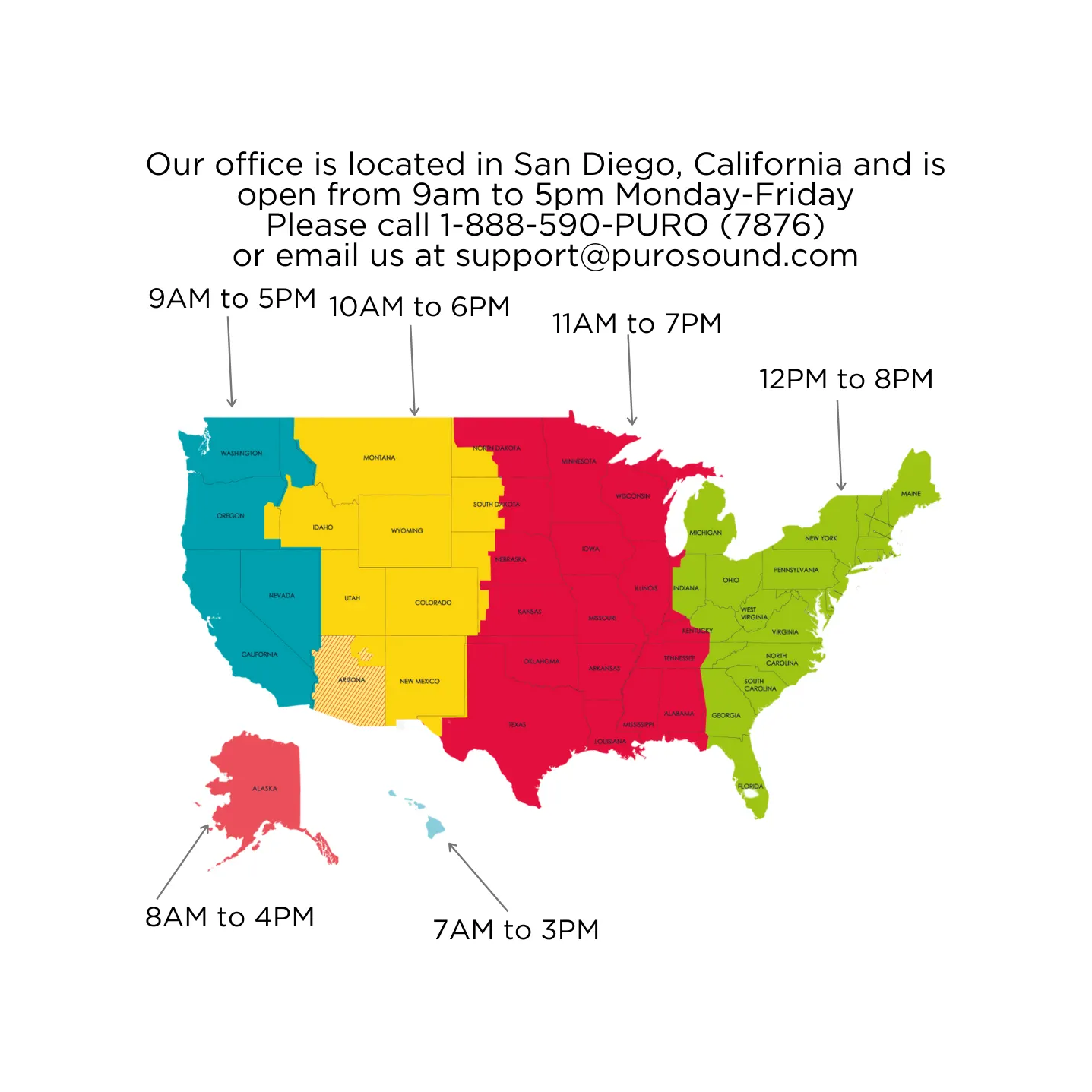 If you need any help with your headphones please email us at support@purosound.com with your order number, a copy of your receipt and what the issue is and we will gladly get you taken care of! Please do keep in mind that we are a small family run company and it may take us a moment to get back to you but we usually do with in 24 hours.
All of our products are Guaranteed. Totally.™ When you take our headphones out of the box and listen with them for the first time, we want you to say Wow. Or words and gestures to that effect. But if that doesn't happen, and you're not 100% delighted, we maintain a 30 day money back guarantee. It's as simple as that. We wouldn't make this promise if we weren't sure about the Wow.
The warranty period for our products is one full year. If you have an issue with one of our products, we want to help. If you have feedback for us, we want to hear it.
We also offer an extended warranty for the second year of your headphones. We know kids can be hard on things so we want to help you be protected.
*shipping costs are not included in refund amounts